No Time To Read? LISTEN In English On-The-Go!
'WE GON' SPILL THE TEA, BABY!'
You may remember her as Christine Daaé
from the Phantom of the Opera movie adaptation of Andrew Lloyd Webber's 1986 musical,

and as Fionna Gallagher from Shameless
the American comedy-drama television series developed by John Wells that aired on Showtime from January 9, 2011, to April 11, 2021,
and most recently starring in Angelyne
the original Peacock TV Miniseries, 2022 which she directed and also co-produced with her husband.
Born Emmanuelle Grey "Emmy" Rossum in New York City she has been a celebrated star and performer since her childhood. She was classically trained in Opera throughout her youth and grew up performing the craft on New York theater stages.
TODAY … EMMY is careful to keep her private life Private. Even when she and her husband, Director/Producer Sam Esmail were pregnant, Emmy kept her pregnancy quiet and surprised fans with a post on Instagram writing, "5.24.21: On a sunny Monday morning, at 8:13 AM, we welcomed our daughter into the world."
_____________________________________________________________________
"I don't particularly like the private aspects of my life, specifically monetarily and business-wise, to be public, but I understand that when it did kind of leak out, it was part of a larger conversation, and that's important." Rossum was speaking of walking away from "Shameless" in 2018.
______________________________________________________________________
She was wed to writer/director Sam Esmail in May 2017, at a Reform Synagogue in New York City. In May 2021 they received baby Samantha into their world.
Emmy Rossum is a versatile performer keeping her interest in music, although her television and movie credits have more recently filled her credits. Regarding her sound and style, she says, "It's pop music, but not Britney Spears bubblegum pop. I want it to have a David Gray or Annie Lennox feel. I have spent up to 12 hours a day in the studio. Describing herself as a lyric soprano, she trains vocally at studios like ZajacStudio (run by soprano Joann C. Zajac.).
CELEBRATING SAMANTHA'S COVID VACCINATION, PICTURE POSTED FOR FANS.
After the CDC approved vaccines for children from 6 months to 5 years old. Rossum posted a photo of her 1-year-old's arm with a bandaid post-vaccine and wrote on Instagram, "An exciting day we've waited a long time for! Our daughter got her first covid vaccine!"
Rossum took to her page to encourage COVID-19 vaccines last year as well, posting in July 21: "When I was pregnant, I got vaccinated," wrote Rossum with a photo kissing her baby. "Not only did we have a healthy, beautiful baby girl, but we also just learned our daughter now has antibodies. In short, stop being an irresponsible idiot and get the vaccine."
UNHCR Ambassador BEN STILLER Is Still Processing the Devastation He Witnessed While Visiting Kyiv, Ukraine, This Week to Meet With President VOLODYMYR ZELENSKY. Calls it

'SHOCKING'

and
'DISTRESSING'

. . . .
As part of his role as global goodwill ambassador to the United Nations Nations High Commission for Refugees (UNHCR), Hollywood actor and director, Ben Stiller met with Ukrainian President Volodymyr Zelensky.
They discussed "the needs of temporarily displaced persons in Ukraine, as well as those in Poland," after Stiller had visited the occupied settlements of the Kyiv region, the destroyed residential areas in Irpin, talking to residents who survived the invasion. The actor was joined by Karolina Lindholm Billing, a UNHCR representative in Ukraine. He had also visited Poland.
The two men also discussed ways for further cooperation of the Ukrainian authorities with UNHCR.
ONE OF THE MANY EXAMPLES
OF RUSSIA'S VIOLATION OF HUMAN RIGHTS
"It's one thing to see this destruction on TV or on social networks.
Another thing is to see it all with your own eyes," Stiller said.
"That's a lot more shocking."
The actor and director reflected solemnly on his trip to the besieged nation, which has been under attack from Russia since February. "It's really strange because when you drive into the … west of the country, you don't feel the conflict, except for the curfew at night, where it gets very quiet and a little bit eerie," he said. "And then as you get closer and closer to Kyiv … you start to see the roadblocks and see the destruction, which is really shocking when you haven't seen anything like that up close."
The star also recounted a conversation he had with a Ukrainian mother of young twins who were forced to flee their family home amid rocket strikes. "They went to the basement and had to wait till the sound of the rockets had gone away … and then not know where to even go for safety," he said. "You just try to place yourself in that situation, [and] think, 'What would happen if a rocket came screaming by my apartment?'"
"What you saw in Irpin is definitely dreadful," Zelensky responded. "But it is even worse to just imagine what is happening in the settlements that are still under temporary occupation in the east." Zelensky wrote in a message to Stiller on Telegram, "Your trip to Irpin and Makariv, meetings with our people say a lot. We appreciate that you are here at this difficult time for our country,"
SEEKING SAFETY IS A RIGHT
Stiller has been with UNHCR for five years. His visit to bring attention to the plight of refugees on World Refugee Day could be summed up in his statement that "seeking safety is a right."
THAT OPENLY ENDORSES THE PARTY
Are Your Favorites Among Them?
JAY-Z and BEYONCÉ
TAYLOR SWIFT
CHRIS EVANS
JOHN LEGEND and CHRISSY TEIGEN
TOM HANKS
Tracee Ellis Ross
AMY SCHUMER
INA GARTEN
ANGELA BASSETT
ALICIA KEYS
DEBRA MESSING
EVA LONGORIA
AMERICA FERRERA
LeBRON JAMES
MARK RUFFALO
LENNY KRAVITZ
KATY PERRY
MERYL STREEP
REESE WITHERSPOON
BUSY PHILIPPS
LEONARDO DICAPRIO
WANDA SYKES
CARDI B
KEEGAN-MICHAEL KEY
GEORGE TAKEI
MANDY MOORE
In 2012 a grand total of $4 million was raised for President Barack Obama's campaign. Reportedly friends with the former POTUS and his FLOTUS, Michelle Obama. They also performed at a "Get Out the Vote" concert for former Secretary of State, Hillary Clinton in 2016. And after receiving BET's Humanitarian Award in 2020, Beyoncé spoke about the need for Americans to vote, encouraging people to "continue to change and dismantle a racist and unequal system."
Once known for shying away from politics, Taylor Swift has made her thoughts known in recent years, becoming one of the most vocal pro-Democrat pop stars out there. She endorsed Democrats running for 2018 senate and congressional seats in her home state of Tennessee and hasn't stopped there. In May, she called out President Trump for, "stoking the fires of white supremacy and racism [his] entire presidency," promising to vote him out of office.
Evans, a.k.a Captain America, makes his liberal-leaning political values known on Twitter and is an outspoken critic of President Trump. He met with Democratic senators in February (for unknown reasons) and he's launched a bipartisan political website called A Starting Point which promotes bipartisan civic engagement.
The famous couple both spoke at the House Democratic Caucus in April 2019, in part opening up about both of their tendencies to unapologetically call out President Trump on Twitter. In a September 2020 Marie Claire cover story, Teigen explained why the pair supported Biden in the general election. "We are a divided, hurt nation that needs to be brought back together. [Biden is] someone who looks into issues with clear eyes, empathy, and understanding from being involved in politics," she said. "I also look at a presidential candidate as someone I want my kids to be able to look up to. I don't see that in Donald Trump or any of his family."
Aside from Michael Moore calling for Tom Hanks to make a run at the 2020 Democratic nomination, Tom Hanks has not only vacationed with the Obamas, but he also was a donor to the former president's campaign and gave money to Joe Biden's in 2019, according to CNN. He also advocates the search for and implementation of alternative fuels as part of his support for environmental protection. The actor is also a descendent of President Abraham Lincoln, through a connection to Lincoln's mother, Nancy.
Ellis Ross appeared on the campaign trail for Clinton in 2016 and wrote an op-ed endorsing the politician for Cosmopolitan that same year. On Twitter, she regularly shares messages from President Barack Obama and former First Lady Michelle Obama, and she spoke on the disproportionate impact of issues like unemployment and COVID-19 on people of color, as well as systemic racism, in an impassioned interview on The Late Late Show.
If you had any question about Amy Schumer being a Democrat, just take a look at her pregnancy announcement. In October 2018 when she revealed she and her husband, Chris Fischer, were welcoming a baby, she hid the news in a list of 23 Democratic politicians she was endorsing for the midterms'.
Ina Garten helpied aa\ fundraise for Joe Biden by participating in a video cocktail night with Dr. Jill Biden. The iconic chef and TV host was once asked what dish she would serve various politicians. For Biden, she said a clambake, while offering Elizabeth Warren lobster mac-and-cheese. For the disgrraced Trump? "A subpoena," she said.
The Black Panther star is yet another famous Democrat who spoke at the Philadelphia DNC. She also campaigned for Hillary Clinton in 2016, and said that "anyone would be a respite" from Trump's presidency.
Keys performed at the Democratic National Convention in 2016 while also advocating for criminal justice reform. And the "No One" songstress has openly supported the left-leaning policy, Deferred Action for Childhood Arrivals (DACA). When she hosted the 2020 Grammys, she implied that she wanted Trump out of office.
A fervent supporter of Hillary Clinton, Messing spoke at the 2016 Democratic National Convention and her Twitter feed is full of anti-Trump tweets and support for a variety of liberal policies. She endorsed Joe Biden saying, "I'm for Joe Biden because he is a unifier. After South Carolina, we now know that the African American community, which has always been the heart and soul of the Democratic Party, believes and trusts Joe Biden." She also cited his record on gun control, healthcare, and supporting science.
The actress spoke in Philadelphia at the 2016 DNC, and in November 2018 she, along with four other Latina Hollywood A-listers, marched in Miami to support Democratic nominee for governor Andrew Gillum. She has campaigned with Joe Biden and is a voting advocate. Longoria was one of several prominent Latinx figures to join a Zoom call with Joe Biden in August 2020. "The voting booth is the one place we are all equal. It doesn't matter your socioeconomic status, it doesn't matter your race, it doesn't matter your gender, it doesn't matter your disability—my vote counts the same as yours."
The How To Train Your Dragon star Ferrera (she portrayed Hiccup's romantic partner,Astrid) marched along with Eva Longoria in Miami during the 2018 elections, while also urging Latino-Americans to vote. She's extremely politically vocal, once backing Hillary Clinton, and she spoke at the 2016 DNC. In 2020, she took part in a Zoom call with Joe Biden and various Latina celebrities.
In an interview on VICE TV's Stick to Sports, NBA superstar LeBron James said that he would be voting for Joe Biden and Sen. Kamala Harris, and spoke about his own work to improve voter access and turnout among the Black community through More Than A Vote. "We are at a time where we need change. In order for change [to occur] it's all about leadership, and leadership starts at the top," he said. James has been a progressive political activist and Democrat supporter for years. He's advocated for police reform and supported candidates like Beto O'Rourke and Hillary Clinton.
Ruffalo is historically politically active, and another Avengers star who is particularly vocal on Twitter about his views. In 2018 he became part of a group of liberal celebrities called "We Stand United" in an effort to sway undecided voters in the election. Ruffalo is particularly concerned with the impact of climate change, and criticized Trump for his inaction on the issue.
The rocker performed his 1989 single "Let Love Rule" at the 2016 DNC, though he captioned an Instagram photo of the moment with a bipartisan message. "Whether Democrat, Republican, Independent, or otherwise—whoever you are and wherever you're from – #LOVE is the only solution. #LetLoveRule" he said. He's shown support and solidarity with Black victims of police violence. In November 2020 Lenny tweeted: "Congratulations to @JoeBiden & @KamalaHarris, the 1st woman & woman of color who will serve as VP of the US!"
You're a man of class, Lenny! BW2W salutes you!
Those unfamiliar with Katy Perry's politics should know that the Roar singer is a Democrat. She has advocated for a number of issues, from gun control to women's reproductive rights, and LGBTQ rights. She performed at the 2016 DNC, appeared on the campaign trail with Hillary Clinton, and even wore a dress with President Obama's campaign slogan "Forward" at a rally for number 44.
Teen Vogue has described Perry as "one of today's most political figures in pop." They highlight how, in 2017, she sang at the Grammys and projected the Constitution on the stage in honor of Clinton. At the time, she encouraged viewers to register to vote, stating that she "has an open mind and [I have] a voice."
In her 2017 Golden Globes speech, the Big Little Lies actress (and just all-around legend) called out Trump for making fun of a reporter with a disability. She was personally attacked by him on Twitter. That's the kind of thing bullies do and Trump is a coward and bully in our opinion. Meryl also spoke at the 2016 DNC but has said she doesn't want to be seen as a mouthpiece for the resistance movement. "I'm a really private person, and like a lot of people in show business, I'm actually shy so it's hard for me to do all this stuff," she said. That's okay Ms. Streep. A lot of us feel that way, but you stood up when it was right. Thank you.
The Oscar-winning actress, producer and activist reveals she hasn't ruled out the possibility of expanding her empire into the political world someday.
"I think we need better representation and balance," she said. "Women are 50 percent of the population, but we're not 50 percent of the representation in government, which is bizarre, particularly when they're adjudicating over our bodies."
Never one to shy away from making her views known, Busy Phillips said on her 'Late Night Show' … "Here at 'Busy Tonight" we try not to be overtly political. but as it turns out, just trying to be, like, a woman in the world is political."
Philipps campaigned for Hillary Clinton in 2016 and testified about abortion rights to the House Judiciary Committee by opening up about having the procedure when she was 15. She's also shared messages on Twitter critical of Trump's handling of the coronavirus.
He is working to acquire funding and attention for biodiversity protection, climate change, forest, and ocean conservation. His foundation supports more than 35 innovation conservation programs in the world that are involved in protecting key species and ecosystems.
In 2016 DiCaprio hosted a fundraiser for Hillary Clinton's campaign in which each guest had to donate $33,400. $2,700 went to Clinton while the rest went to the DNC. During the presidential campaign of former President Barack Obama, he donated $38,000.
He also stresses the need to support a leader who speaks for humanity, including the underprivileged and the indigenous people.
Is Leonardo DiCaprio a democrat? Indeed, he is a Democrat who stands for the environment and supports politicians who genuinely aspire for the best of humanity and not their personal greed.
Sykes discussed her views during an interview with Stephen Colbert on CBS's "The Late Show. A critic of former President Trump, Wanda told Colbert she "jumped the gun" by naming her 2019 Netflix comedy special "Not Normal." But the Emmy Award winner suggested that any lawmakers involved with the deadly Jan. 6 riot last year at the Capitol could help actually help return the country to normalcy.

"I think things would be normal like if people — especially elected officials who tried to overthrow the election — if they went to jail. That will feel normal."
In 2017, the comedian appeared in a PSA condemning the Trump Administration while advocating for Democratic candidates in Virginia in the wake of the infamous white supremacist rally in Charlottesville. She spoke about Trump in her 2019 Netflix special Not Normal. " I open the show with, 'If you came to see me and you voted for Trump, you're just a bad decision maker."
Rapper and actor Cardi B has been vocal about politics and social progress for years since becoming a star. In 2020, she was an advocate for the progressive policies of Bernie Sanders during his campaign, and later had a conversation with Joe Biden about issues like education, police brutality, and structural racism in Elle. Cardi is well known for her interest in American history, and has even expressed a desire to run for office one day.
During the Democratic primaries, comedian and actor Keegan-Michael Key appeared at a Pete Buttigieg rally to support voter registration within the party. Back in 2017, he endorsed Doug Jones, the Democrat who won an Alabama senate seat. In a video posted on Joe Biden's YouTube page, Key appeared with the former Vice President and did an impression of President Barack Obama.
George Takei pledged to work to help elect Joe Biden, and often uses his sizable social media platform to criticize Trump and other Republicans. The longtime Star Trek actor spent time as a child in a Japanese internment camp during World War II, and today fights for immigration rights.
The veteran actor slams the overturn of Roe v Wade as "mean-spirited and dangerous," adding that "it's not the Republican way. A core value of the Republican Party, I thought, was a small government," he told the hosts of The View. "But, when it comes to the most private area of a woman's life and decision-making, government wants to ban it."
After the children are born, he said, the Republicans do not take responsibility. "What do they do with the children? Total irresponsibility. Education budget is cut. Childcare is cut. I mean, it is the most irrational and un-Republican act," said Takei.
In 2020 she posted by iPhone on Twitter:
It is imperative that we take the Senate back in 2020. Period. I just donated to @crookedmedia's Get Mitch or Die Trying fund, where money is allocated to key races across the country. If you're passionate about turning this country around, go for it. 10:30 AM · Sep 19, 2020·Twitter for iPhone
Axios reported that the 'This Is Us' star previously donated to Mayor Pete Buttigieg, campaigned for him in Iowa, and was in the A-list "Fight Song" music video that premiered at the 2016 DNC.
MURDOCH MARRIAGE FAIL
I KNOW THIS IS DIFFICULT TO HEAR, BUT . . .
"I WANNA A DIVOIRCE" CAME VIA EMAIL ACCORDING TO JERRY HALL
WELL. THEY DID IT. 6 years ago the improbable romance of media mogul Murdoch (reputedly worth £14bn) and former supermodel Hall was knotted in matrimony. and…
WELL, THEY DID IT. 3 Weeks ago the Murdochs (Rupert and son Lachlan) divorced Hall.
This was Murdoch's
4th Marriage
Marriage #1 was very early on in Murdoch's career (1958), to Patricia Booker a flight attendant before marrying the media tycoon. His first daughter, Prudence is Patricia's daughter also.
Marriage #2 was to journalist Anna Maria Torv. This was the longest-lasting marriage – 32 years (from 1967 to 1999). This marriage produced 3 children, Elizabeth, Lachlan, and James.
Marriage #3 was to executive Wendi Deng of Star TV Hong Kong – owned by News Corp. They have two daughters, Grace and Chloe.
And then there's Jerry Hall . . . .
Poor Jerry. The former supermodel is NOT laying a good track record with men.
For RUPERT MURDOCH Jerry is Marriage #4.
For JERRY HALL Rupert is
Marriage #1 – at least LEGAL Marriage.
Halls's former partner was Rocker MICK JAGGER with whom she bore 4 children: Georgia May, Elizabeth "Lizzy", James, and Gabriel.
She and Jagger had an unofficial private Hindu marriage ceremony in Bali, Indonesia, in 1990. But it wasn't legal, unbeknownst to Hall, and during their divorce proceedings in 1999, a British court declared the marriage invalid.
And now JERRY HALL is claiming (although it is reported that she filed for divorce from Murdoch) that she was completely blindsided, she thought their marriage was fine until she got an email (an EMAIL!) from Rupert that it was over.
WHAT HAPPENED?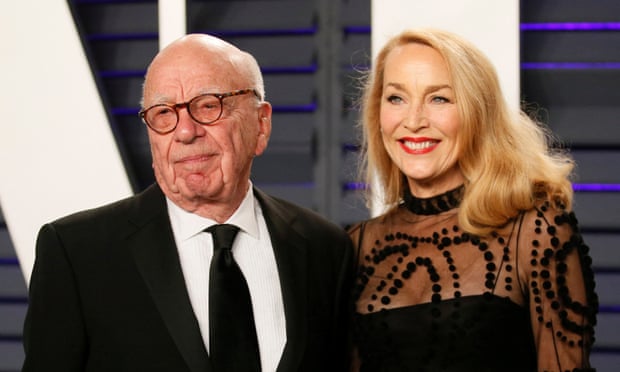 Despite being initially reported that Jerry Hall is the one who legally filed for divorce – officially citing 'unreconcilable differences' …
More recent accounts disclose that Jerry is 'heartbroken' and 'devastated' – waiting in the UK for Murdoch to join her when he instead sent an email saying the marriage was at an end.
She blames his children for driving a wedge between them
Rumor is that tensions between Hall and Murdoch's children occurred during the pandemic; she assumed a 'gatekeeping' role to keep her husband safe from Covid. Jerry believes that led his family to think that she was seeking to cut off their regular contact with their father. She is right according to media sources, but . . . .
It was 1 Child Who Helped Daddy divorce Jerry Hall
Murdoch-Hall have a pre-nuptial agreement in place. She is seeking spousal support and attorney's fees. Mega-mogul Rupert (91) Murdoch's eldest son Lachlan Murdoch, who seems to be the heir apparent for control of Murdoch's empire, played a key role in advising his father to divorce Jerry Hall. Lachlan helped advise his father to pull the pin on his six-year-long fourth marriage. He was even involved in the legal and PR strategies, according to those familiar with the matter.
The split reportedly will not affect the family's ownership in companies like Fox News or the Wall Street Journal.
He's known for the same formula for almost all of his father's newspapers: Stories stress sex, violence, crime racial discord, and political baiting.
At FOX NEWS which is a political organization masquerading as news programming, both Rupert Murdoch and his son Lachlan Murdoch are ultimately responsible for the toxic programming that has adopted talking points previously the province of hardcore white supremacists. Rupert laid the foundation for the shift. He then ceded much of the day-to-day authority to Lachlan, who maintains it as Fox Corp.'s executive chairman and CEO.
Fox is feeding its audience a poisonous stew of bigoted, xenophobic conspiracy theories because that is what the Murdochs want the network to do.
A New York Times Magazine investigation found that in recent years, the Murdochs' media empire has been "instrumental in amplifying the nativist revolt that was reshaping governments not just in the United States but also across the planet," with their outlets fueling xenophobia and ethnonationalism to achieve political aims in the U.S., the United Kingdom, and Australia.
Fox News to The Sun, to TalkTV… Murdoch amassed a US $18 billion media empire
It's an evil, and powerful multi-billion News Corp media empire that dates back to the 1950s – and along the way, he fathered 6 children through 4 marriages. Now aged 91, who will get to wield all that power next?
Rupert Murdoch inherited a chain of Australian newspapers from his father, who was a war reporter-turned-publisher, in 1952. At the time, Murdoch was 22 years old and had just graduated from Oxford University.
He included scandalous stories in his papers which helped with sales. The early success allowed him to expand quickly. He founded Fox News in 1996.
In 2018, The New York Times wrote that Murdoch was able to grow the empire so quickly "in part by ruthlessly using his platform to help elect his preferred candidates and then ruthlessly using those candidates to help extend his reach."
His two sons, James and Lachlan, have long been considered the most likely to step into Rupert's shoes. Together, James and Lachlan ousted Roger Ailes, a Fox News co-founder, after claims of sexual harassment in 2016.
However, James has taken himself out of the running by leaving the board of News Corp citing "disagreements over certain editorial content". Beforehand, James had lost out to Lachlan in the race to take over at the famously conservative Fox News.
Lachlan Murdoch is now seen as the most likely to succeed his father.
Lachlan, 50, is Rupert Murdoch's eldest son. From 2014 until 2019, he was co-chairman of 21st Century Fox, until the company was sold to Disney for US$71.3 billion.
After the Disney deal closed, Lachlan was named chief executive of Fox Corporation, the arm of the Murdoch media empire that contains Fox News and Fox Sports, marking perhaps the final stage of the contest between the brothers to take over their father's empire. (He and James have leapfrogged each other multiple times).
Lachlan started out overseeing a chain of Australian newspapers at 22 years old, and by his late twenties, he had risen to be the deputy chief operating officer of News Corp. Other executives "viewed him as entitled", according to The New York Times. He left the company in 2005 at the age of 33, interpreted at the time as a sign that James had taken the lead. But Lachlan was brought back into the fold by 2015.
Lachlan has been married to Australian model Sarah O'Hare since 1999. They have three children.
The Other 4 Children?
Prudence is Rupert's oldest, and the only child from his first marriage. Prudence has mostly steered clear of the succession battle, but she and her husband, Alasdair Macleod, are both involved with Murdoch businesses. They have three children.
Elisabeth, who has the same mother as Lachlan and James, is a media mogul in her own right. She owned and ran her own television production company, Shine, in the UK before selling it to her father for £415 million (US$546 million) in 2011. The sale netted her £153 million (US$201 million). She also co-founded Sister, a global production company.
She has four children: two with her first husband Elkin Pianim and two with her second husband Matthew Freud. She married a third time, to artist Keith Tyson, in 2017.
Elisabeth is also on the News Corp board.
The last two children come from Murdoch's third marriage. Grace (21) and Chloe (19) whose godparents are film stars Nicole Kidman and Hugh Jackman are beneficiaries of the trust, but they do not have voting rights.
And
The Wives?
Wife #1
PATRICIA BOOKER
Rupert Murdoch an Australian businessman married Australian Flight Attendant. Patricia Booker, in 1956. After 11 years of marriage, the couple divorced in 1967. Terms of the divorce are unknown.
Wife #2
ANNA MARIA TORV
The same year Rupert's divorce from Patricia was finalized, he married his second wife, nee Anna Maria Torv. Born in Glasgow, Scotland she started her journalism career at age 18. She had the longest-lasting union with Rupert, over 30 years from 1967 to 1999. The couple had three children together, Elisabeth (born in 1968), Lachlan (born in 1971), and James (born in 1972). The marriage wasn't to last however and they were divorced in 1999. In their divorce settlement, Anna fought for the four children [those born to her (Lachlan, Elisabeth, and James) and Prudence from his previous marriage] to be the only beneficiaries of the family trust. The divorce settlement was $1.2 Billion with $110 Million of that in cash. 6 months after the divorce she was married to William Mann. They make their home in The Hamptons.
Wife #3
WENDI DENG
Just weeks after his divorce from Anna was finalized, Rupert married Deng, a woman 37 years his junior, aboard his yacht Morning Glory. The vessel has room for eight passengers and eight crew members, a marble fireplace, multiple dining rooms, a vast master suite, and a full bar. In 2013 after 14 years and two children, they reached an "amicable" divorce settlement. Years before Murdoch angered his young wife because of his refusal to alter the arrangements regarding the denial of voting rights in the Murdoch Trust (which controls shares in News Corp). He said that Grace and Chloe would be on economic parity with the 4 older children but they would not receive voting rights. Company control was a key component in his last divorce, demanded by Anna Murdoch Mann. Deng and Murdoch had a prenuptial agreement plus she received the $49million (£36million) palatial penthouse apartment on Fifth Avenue in Manhattan. Other terms of the divorce are undisclosed.
Deng is also a close friend of Ivanka Trump Kushner and her husband Jared, and it is rumored that after her split with Murdoch, she was dating Vladimir Putin, though those rumors were never officially confirmed.
Wife #4
Now the Fox Corp mogul's 4th marriage isn't lasting long enough to make it to the seven-year itch.
CELEBRITY?
But why would we ever care about Rupert Murdoch's marital troubles? It's a valid question even here on the Celebrity Gossip page. 1) In today's media climate he is a "celebrity", especially with his marriages to a model, a journalist, a film producer, and a supermodel. . . . not to mention his net worth. Media magnate Rupert Murdoch is the founder and head of News Corporation, a global media conglomerate. He created Fox Broadcasting Company … Born Keith Rupert Murdoch March 11, 1931, in Melbourne, Victoria, Australia. Of all the words one could write about him … businessman, media proprietor, investor, CEO, Chairman of the Board, crafty, cunning, evil … BORING is not one of them. He followed his father, Sir Keith, into the newspaper business. Family dynasties in newspapers are not new – there were the Harmsworths in the UK; the Hearsts, Grahams, and Sulzbergers in the USA; and the Packers and Fairfaxes as well as the Murdochs in Australia.
But this Murdoch has exercised a particular fascination: an almost irresistible core of a family with the gloss of celebrity, the heavy aroma of money, and the unmistakable aura of power.
Conflict, confusion, and contradiction are part of his strategy. So, why Murdoch? And why here? The dynastic shenanigans of the Royal Family have generated volumes of stories, film, and television. And, let's face it, even The Godfather is really a family story, even if it's about a family that lies, extorts, and murders. The media occupies one of the most contested roles in our democracy, and Murdoch has become a lightning rod for fierce upheaval.
Adding extra bite is the family jostling for their father's benediction to inherit the company carrying their DNA. This becomes more urgent as the patriarch ages and the offspring start to give their ambition free rein.
The commercial decline of mainstream media, the fragmenting of audiences, the rise of social media, the erosion of trust in established news brands, and the polarization of debate are all bound up with the Murdoch business and the family story. Murdoch has been a proponent, instigator, and beneficiary of these seismic changes.
Until WE divorce HIM.
TOP GUN: MAVERICK (2022)
Movie Rating PG-13, 2 hr 11 min Action Adventure
ROTTEN TOMATOES
TOP GUN: MAVERICK kicked off the 2022 Summer Movie Season May 27th. The long-anticipated sequel to the 1986 cult classic starring Tom Cruise reprising his character Pete Mitchell (that's Maverick) has grossed more than $400 million at the domestic box office, making it the highest-grossing movie of the year to date.
This movie is clearly set on a fictional geopolitical stage. Temporary suspension of reality is key to most movies' enjoyment. How far removed from reality? The "Top Gun: Maverick" film crew was allowed access to military equipment and assigned a senior staff, post-command Officer to review with public affairs the script's thematics and weave in key talking points relevant to the aviation community. This is standard for movie production crews seeking to make militarily authentic movies. There is an entire Hollywood office within the Defense Department dedicated to working with film production staff.
"The Defense Department has a long-standing relationship with Hollywood," according to a Pentagon press release. "In fact, it's been working with filmmakers for nearly 100 years with a goal that's two-fold: to accurately depict military stories and make sure sensitive information isn't disclosed."
But remember, "Top Gun: Maverick" isn't a military documentary; it's a fun reprieve from contemporary political morass, economic churnings, and uncertain outcomes.
Back in 1986 — in Tony Scott's "Top Gun"— Pete Mitchel (Cruise) was a brash upstart striving to stand out amid the camaraderie and competition of the super-elite TopGun program. Ronald Reagan was president and the Cold War was in its final throes. "Top Gun" wasn't really a combat picture. It was, at heart, a sports movie outfitted in battle gear. In other words, it was "about" a bunch of guys showboating, trash-talking, and trying to outdo one another.
In 2022 —in Joseph Kosinski's "Top Gun: Maverick"— times have changed somewhat. Pete is the instructor now, called to the North
Island naval base to train a squad of eager young fliers for an urgent, dangerous mission. The frat-house atmosphere of the '80s has been toned down, and the pilots are a more diverse, less obnoxious bunch.
Joseph R. Biden, Jr. is president with polarized-conflict politics, fast-and-loose financial markets, and a Russian military quagmire.
With some hat tips to drone warfare and vague geopolitics, "Top Gun: Maverick" still isn't actually a military picture. It is, at heart, "about" normal people doing things reasonably realistically. Cruise conveys a real-life dynamism that has become increasingly absent from mainstream pop culture in an era of sci-fi/superhero and adversarial political domination. After years of Twitter, Trump, Covid, social upheaval, and an ever-more-bland, oppressive pop-cultural sameness, a large number of Americans are desperate for permission to collectively feel good about our life, country, and culture, without any of the attendant political baggage.
So enjoy the movie, and Cruise, and the rest of your summer:
Synopsis:
After more than thirty years of service as a top naval aviator, Pete "Maverick" Mitchell (Tom Cruise) is where he belongs, pushing the envelope as a courageous test pilot. Yet, Maverick must confront the ghosts of his past when he returns to TOPGUN to train a group of elite graduates and comes face to face with Lt. Bradshaw (Miles Teller), the son of his former wingman "Goose". Bitter rivalries ignite as the pilots prepare for a specialized mission that will require the ultimate sacrifice from those chosen to fly it.
Trailer (3 mo ago)
LONDON PREMIERE "TOP GUN: MAVERICK"
The Duke and Duchess of Cambridge made an appearance at the UK premiere of the highly anticipated Top Gun sequel, Maverick.
The couple joined Tom Cruise for the London event on Thursday, May 19th, which took place as a Royal Film Performance.
The fundraising event is held in aid of The Film and TV Charity, which supports people working behind the scenes in the UK's screen sector.
Other stars include Miles Teller, Jennifer Connelly, Monica Barbaro, Val Kilmer, Jon Hamm, and Glen Powell.
It was originally due for release in July 2019 but was repeatedly pushed back due to the coronavirus pandemic.
Cruise made a dramatic entrance at the US premiere of the film, landing a helicopter on an aircraft carrier in San Diego, California.
Nein, Nein, Nein!
Jerry is the author of ten books, including the bestselling memoir Permanent Midnight which was made into a movie starring Ben Stiller portraying Stahl and Owen Wilson. Also the novels I, Fatty, Perv, Happy Mutant Baby Pills, and Bad Sex on Speed. A Pushcart Prize-winning author, Stahl's work has appeared in Vice, Esquire, the Believer, LA Review of Books, and the New York Times, among other places. He has written extensively for film and television, including HBO's Hemingway and Gellhorn, Bad Boys II, and the cult classic Dr. Caligarr; series credits include Maron, CSI, and Escape at Dannemora for which he received an Emmy nomination. Stahl has taught with the InsideOUT Writers program for incarcerated youth, edited the Heroin Chronicles for Akashic Books, and appears in the documentary series San Quentin Film School. He has two daughters, and lives with artist Zoe Hansen.
A guided group tour to concentration camps in Poland and Germany allows Stahl to confront personal and historical demons with both deep despair and savage humor.
In September 2016, Jerry Stahl was feeling nervous on the eve of a two-week trip across Poland and Germany. But it was not just the stops at Auschwitz, Buchenwald, and Dachau that gave him anxiety. It was the fact that he would be traveling with two dozen strangers, by bus. In a tour group. And he was not a tour-group kind of guy.
The decision to visit Holocaust-world did not come easy. Stahl's lifelong depression at an all-time high, his career and personal life at an all-time low, he had the idea to go on a trip where the despair he was feeling—out-of- control sadness, regret, and fear, not just for himself, but for the entire United States—would be appropriate. And where was despair more appropriate than the land of the Six Million?
Seamlessly weaving global and personal history, through the lens of Stahl's own bent perspective, Nein, Nein, Nein! stands out as a triumph of strange-o reporting, a tale that takes us from gang polkas to tour-rash to the truly disturbing snack bar at Auschwitz. Strap in for a raw, surreal, and redemptively hilarious trip. Get on the bus.